How To: Use images 
We cover a lot of ground in this article!

Adding Images to the Photo Library
1 Adjust the image filename:
    - Only lowercase letters
    - No spaces 
    - Example: underscores_as_spaces.jpg
2 Optimize image:
  - We recommend the image be square or close to square
  - Optimal file size is 300x300 pixels
3 
Drag the images one by one directly from your folder into the "survey images" field: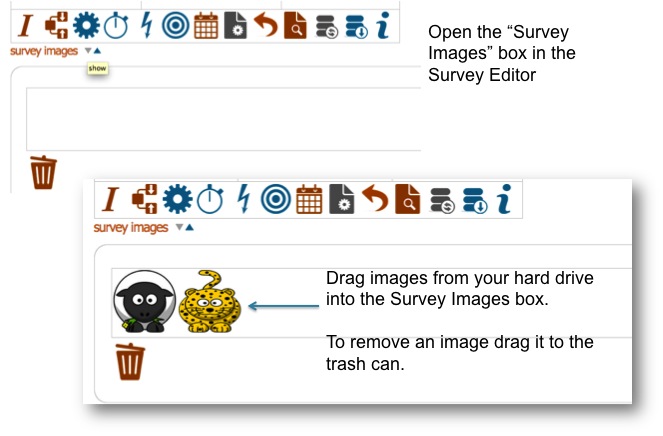 ---
1 Click Edit
 next to the question to open the wizard pictured below

2 Click the image icon

next to the response field to select an image from your survey's photo library pictured below    
3 Type a label for the image into the Short Text field and press Tab. 
    - Enter the image's filename in the Long Text field. 
    -The Code field will already be filled in, but you can edit it.
    - Click "Set Parameters" to save.
---
     Use Images in the Text of a Question
1 After adding the image to the library enter the filename of the image into the Long Text box .
---
Images in the App
See how images will appear when viewed in a survey.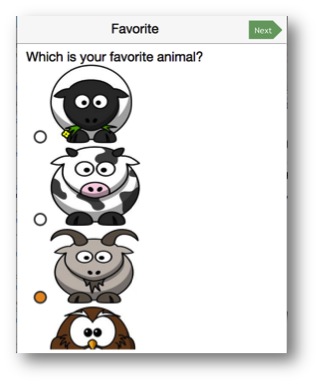 1 Single Selection and Multiple Selection Questions 
    - Both square and rectangular images to be used in the response fields.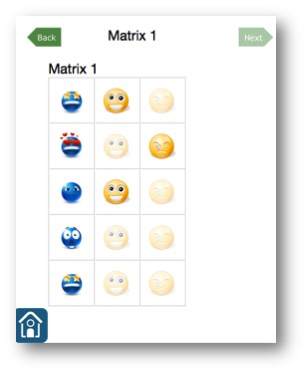 2 Matrix Questions (to the right) 
  - Allow only square images. 
  - Rectangle images appear distorted.


and Discrete Sliders 
- Show the images at either end.
---
Allow User to Take a Photo
You can prompt the participant to take a photo during the assessment
1 Create a Text Entry Question
2 Type something in the Short Text box. 
3 Add the suffix "_IMG" in the Analytics Code field.
Example the Analytics Code might me"HOME_IMG" or "LUNCH_IMG"

4 When the participant uploads their data, the images will be on to the mEMA server and viewable in the 
5 The question appears like so: